Sun Mar 29, 2009 2:40 pm
wow, you got it to shoot like a CM020!
On Thursday I took apart my AKS74 GB thinking it was locking up because it needed to be relubed. Boy was I wrong. Well, more GB practice accomplished. Turns out it was the work I did on my batteries that was the problem.
I also determined that I probably ruined my bakelite mags.
Tue Apr 07, 2009 7:51 am
About 2 weeks before Op: Buran I was testing my AKS74 and had some stoppage issues. I thought that maybe that was a sign of a need for relubing, as happened in the Fall of 2008. I had taken apart the GB, lube was dirty, did some cleaning, added lube, reassembled GB. Might not be as tight as Brayski did it. Maybe have a slight airleak. Still shooting in decent range of FPS and distance. But last chrono was lower than in the Fall. And then I figured out that the problem was not with the GB originally. The stoppage was due to wiring contacts that I had worked on before. On the battery.

On Friday night, before Op: Buran, I had assembled an M76 for DRK. Unfortunately we didn't even get to use it at the game because we had no battery for it. And then Saturday night I took it apart so DRK could send it to his tech.

Friday night I transferred his the GB out of DRK's VFC AIMS PMC into the VFC AKS74 body. Despite its stoppage during the game, my job was done right. The stoppage was due to battery being poorly charged. I confirmed this theory after the game.
Fri May 01, 2009 7:29 pm
Thanks to DRK lending me his chrono I was able to finally complete my project of cooling down my hot AKS47.

Started out with .20g @ 430FPS. Which was deemed acceptable. Later that night I found out the barrel was filthy. Spent about an hour cleaning it. From past experiences I assumed I gained an extra 20FPS. 450FPS would match up with online reports of the stock AKS47 performance.

Since then I've used the **** and store technique suggested by MoonDog. People failed to have chronos at subsequent games so it wasn't tested. To be safe I did this for a couple of hours, and then over a 24 hour period. Last night I had a chrono and it was clocked in at her highest around 440FPS range. I cocked her and left her over night. This evening I tested her again and she came at her highest in the 430FPS range.

400FPS/.25g = 1.86J
430FPS/.20g = 1.72J

My AKS47 is FINALLY field legal. Just in time for Bad Blood and 'Nam games.
Sat May 16, 2009 5:44 pm
I had to pick up Don's Type56-1 from Brayski, since he couldn't open up the body. Later in the week I got it open and took it back to Brayski. Brayski determined nothing was wrong with it, and its shooting again. Probably could have avoided all of this if we had just tried harder to flip that spring release switch. One of the RS included tools is supposed to be used for unscrewing the handle and then flipping that switch. Donnie should carrying with him in the future. Then I rebuilt his AK. Hardest part was actually getting the damn sight leaf back on.

I chrono'd his AK, and saw that it was still shooting nice, 390 range with .20g. And also chrono'd mine. Didn't even notice how I managed to put holes in my plastic blinds. Some of those shrapnel was whizzing by really hot.

I removed the wood from my AKS47 so that Donnie could stain it darker for me.
Wed May 20, 2009 11:03 am
Last night I was a busy soldat. I reassembled the RPK. At the moment she has the GB I was going to use in my SAM7 project and the inner barrel from a M14. I also have a battery pack rigged into the sling, using Sally's 9.6v 4400mAh brick. MoonDog tells me I could use my 64cm inner barrel in there with out a bore-up kit, so I might do that tonight.

Will I actually use this RPK? I don't know. How long can that GB even last? I don't know that either. But she looks pretty!

I also put the wood back on my AKS47 that Donnie stained for me. I was hoping for a solid chocolaty brown look, but it came our just darker with a more visible grain. Its better than before, but not what I envisioned. But thanks goes out to Donnie regardless, I know he tried his best, and dropped it off to me, I got to meet his dogs!

I also swapped motors on my AKS47. I replaced the non-labled motor with a TM1000S that was in my Inokatsu GB that was in my RPK. This was not the slide off and on connectors but involved soldering. I hate soldering. It says its a high torque motor, so I won't see an improvement to my ROF that I'd really like in this 8.4v limited AEG. But I should have improved battery consumption.

How productive are you tovarishi?
Sun Dec 20, 2009 3:56 am
This 'snow storm' that hit us this weekend motivated me to finish my helmet snow camo cover. You might have seen the pictures of me using it at Op: White Star II. That day it was attached with safety pins to my Flora helmet cover that was under it. I've been neglecting that project since then.

Today, I sat down and finished sewing on a band into the cover. Now I can mount the snow cover on its own.

My next project is to make a snow camo wrap for my AKMS.
Fri Feb 05, 2010 3:15 am
Tuesday evening, I replaced the broken tapper plate in my AKMS GB.

Wednesday evening I was working on my ACM PSO. First I removed broken part of the bulb from the socket. Then I was going to replace the dials. The one that says Up-Down moved it left and right, and the one that says Left-Right moved it up and down. I did not end up swapping them, because the part that I thought comes off doesn't. But I did manage to move the reticule to a lower point than was previously possible. Which is great, because now I won't have to use the lower chevrons as the center anymore, I can use the proper center!

Thursday evening, I lubed up the AKMS GB. I reassembled it. And I replaced the broken Tamiya plug. Then I proceeded to reassemble the AKMS. That is when I noticed that the hop was broken. The internal arm inside the unit had broke, so moving the lever/slide has no effect. I don't believe there are just arms for sale. And I'm pretty sure I have no spare hops laying around. So I'll have to add a new hop unit to the 'to buy list.' I'm not totally sure, but maybe the O-ring on the piston head could use replacing also. This AKMS is SO much work...

I also fixed the stirrups on my Flora uniform that ripped out of place at the last Coram game. God damn Coram.
Fri Feb 05, 2010 12:17 pm
god damn coram? you mean URAHH coram right?


and damn Nik did a number on your AKMS, no wonder he somhow stripped a gear in his aks74
Tue Feb 01, 2011 12:02 am
This was a while ago actually.
I attached another collar liner on.
This one on my M69
I'm glad that Ukrainians stopped using collar liners. At least I don't have to add one to my Ukrainian Desert uniform.
Sat Sep 08, 2012 4:52 pm
One of the items I had recently acquired was a KZS-1 top that was a bit torn up.
The purpose was to use the material for a couple of projects:
1-Helmet cover (will probably keep on my SSh60 and maybe use in place of the potato sack one on my SSh68)
2-Cover for my PSOP
3-Cover for my planshet/officer bag
So far I finished one of the listed objectives: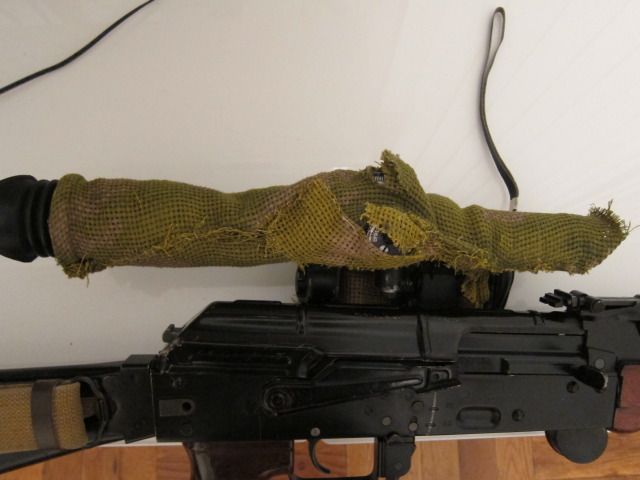 I made sure that there was no interference in my ability to use the iron sights under the PSOP. Had to trim stuff and tighten up other parts. Also wanted to have the adjustment knobs exposed, but not obvious, so I made the openings kind of like lips.
All the material I needed was just the cuff part of the KZS-1 shirt. So I have a lot of material left over. Saving the hood for a no-brainer helmet cover conversion. The planshet cover I have seen used by a MorPeh officer in 2000+ time frame. I figure I could use it on my planshet when playing games in my Flora kit but still needing an officer bag. For the type of games where I'm stuck in charge that NYCAS/MoonDog hosts. The helmet cover is at least from the 1980s for MorPeh. Maybe used by various troops in Afghanistan. I've also seen a cover made used for the barrel of an AK74, so that is a possibility for the future.
The other bit of productivity I was able to accomplish last night was filing away the extra bit of metal on the Dboys GP-25 so that it could properly mount on my AKS74N and AKMS. This was thanks to comrade Russian lending me his Dremmel. What a fantastic little tool!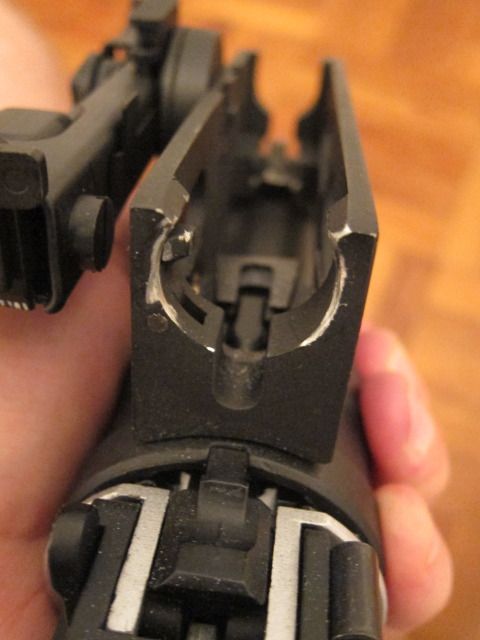 It's not much, but it made a big difference. And would have taken much more time and energy to do by hand like on my previous projects.
Sun Sep 09, 2012 10:27 pm
Very nice! Where can you get this material (besides just soaking a potato sack in paint)?
Sun Sep 09, 2012 10:56 pm
KZS-1's are readily available in complete sets on ebay. R-A members sometimes re-sell sets. YuriDako there has many sets, that's where I got this one.

What did you want to make? I might have enough leftovers.
Sun Sep 23, 2012 3:50 pm
A similar scope cover and possibly a front end cover, since you mentioned that during Tantalum Contract you saw me by the wood of my gun while the rest of me was hidden by my KLMK. =)
Fri Feb 15, 2013 12:59 am
Mended and enhanced my Soviet style Gorka replica.Last
East Wind the buttons holding the rear suspender to the pants came off. Using one of the recovered buttons and a button off of a КЗС-1I fixed that. I also re-sewed the front suspender buttons for a more effective hold.
And the easiest enhancement is the one I am most pleased with. I replaced the drawstring of the hood of this Gorka with one from the КЗС-1.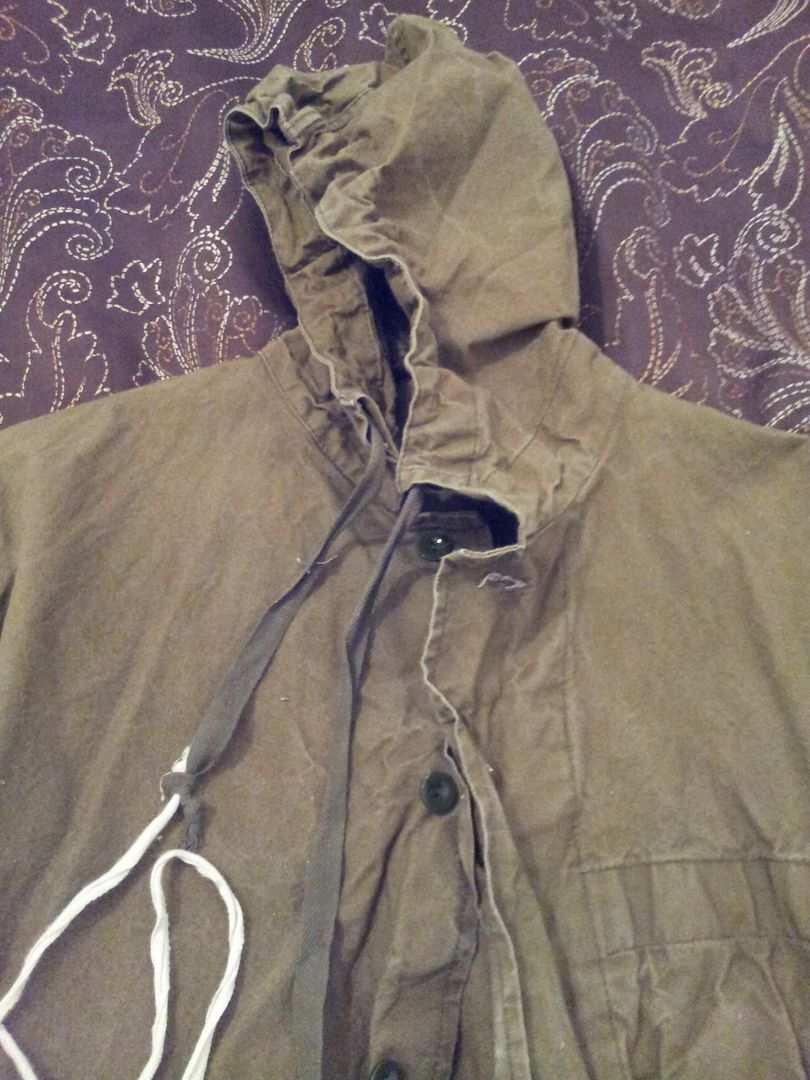 I just tied one end of the replacement to the original and pulled it through.
Super easy. I hated the original white one. I don't know, but
I doubt that the real Gorka featured white string. And at night, I know just how reflective that can be. Last EW my Sgt.'s stirrup from his Afghanka was dangling out of his boot. Out of his entire body, that was the most visible thing. Short strip of light fabric! So I am really glad to have made the replacement. The new string looks totally natural there. And it is from authentic Soviet material.
Tue May 19, 2015 10:52 am
I had another PTT break down on me. This unfortunately became evident right as we were starting Op: Reality Check last year. Just like the previous PTT I had break down, I was able to hear and send, but only using the radio button. On that one the issue seemed to be with the connector wire before the pins. Which was not something I was able to repair. This time it seemed to be a problem with the port which the headset plugs into. The other end of the PTT assembly. The frame that holds the contacts had gotten cracked. Judging by the hole I think I was shot. From the hole developed a crack. When the plug would be in, there would be full contact and everything worked as It should. But movement would move stuff apart and I would lose the ability to activate the PTT feature.
I super glued the crack. Easiest and most practical solution. Additionally I added a layer of black electrical tape around the cylinder housing. Partially to help hold the crack together as it glued. Partly to help prevent future cracks from developing. If I had more electrical tape at home, I would give it a thicker wrap with the tape to make it even more BB resistant.
Before
after
Without a 2nd radio to verify that PTT is transmitting when pressed I had to rely on the instrument display. When there is proper contact and the PTT unit is pressed, it should display the same thing as pressing the radio PTT.
In regular standby/receiving state.
And below is what it looks like when transmitting.
Top line on LCD 'S' disappears and a tower with bars appears in the left corner of the top line. Also, the light below the LCD lights up.
I got the right displays when pressed the PTT. Swung it around and twisted it and still got the same displays. So I might have fixed it. Will know for sure when we get together. Just to make sure it's registering the transmission command AND registering voice.
What have you guys been up to?